How Can I Hide My Home Address if I go to Court?
Missouri offers Safe at Home, an address confidentiality program.
Missouri implemented Safe at Home in 2007 to help survivors of domestic violence, stalking, sexual assault, or other crimes stay safe by keeping the survivor's home address out of public records. Unfortunately, this program is still not widely known about, especially by those who would benefit from the program. Safe at Home serves Missouri residents who are victims of crime who have recently relocated or will soon relocate because they fear future harm.
Still, Safe at Home is intended to be only one piece of a larger safety plan. If you or someone you know is in danger of domestic violence, you can contact True North in Columbia, Missouri at 1-800-548-2480 to speak to a Victim's Advocate about referrals, emotional support, and how to develop a safety plan that is right for you.
Safe at Home offers several services including:
A substitute address to use for interactions with and on documents from government agencies. This includes your driver's license, motor vehicle registration, public school enrollment, law enforcement reports, voter registration cards, and court documents among others.
Mail forwarding to your now-confidential address
An agent for service of process. This means that the Secretary of State will accept service of any court documents on your behalf and then forward them to you at your now-confidential address. This way, you are not served at your home.
Voter registration using a voter code and substitute address.
If you believe these services would be helpful in keeping you safe, you should either call (866) 509-1409 or visit Find an Application Assistant to find an Application Assistant in your area. You must meet with a registered Assistant in person to begin the application process. The Application Assistant will complete your enrollment application and submit it for review within 24 hours. If your application is approved, Safe at Home will send you an authorization card and substitute address. From that point on, you can use the substitute address as needed. Your mail will be sent to the substitute address where it will be sorted and forwarded on to your real address.
If you are on our website, you may be wondering how this program can protect you if you are wanting to file for divorce or child custody. If you are successfully entered into this program, you will use the designated address provided to you for the Secretary of State when you create new records within the Court system. When filing a case or responding to a case filed against you, the Courts are required to accept your substitute address if you provide them with your authorization card.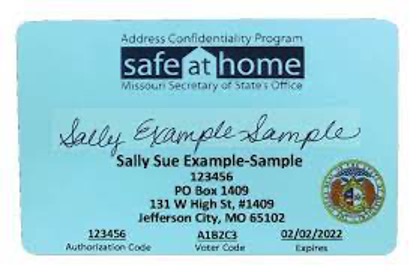 When a legal dispute arises in which you will need to be served, the opposing party will serve the Secretary of State as an agent for you on behalf of Safe at Home. Once Safe at Home is served with your court documents, the documents will be immediately forwarded to you at your confidential address via certified mail.
We hope that this information provides you with some comfort in the fact that your address can be protected from your abuser or stalker. Everyone deserves to be safe at home. For more information, reach out to an Application Assistant who will provide you with additional information about the program before processing your enrollment application.
If you need assistance protecting yourself through the Court by filing a divorce, custody case, paternity suit, modification, or order of protection, contact us at (573) 662-4514 to schedule a consultation with one of our attorneys!